Actual surveillance footage of @JizzFlinger getting ready to post another conspiracy theory.
For the past 3 weeks i've been getting the same guy call me from my Vodafone internet which i don't have, so we play the game for a few minutes of him telling me what to do and me pretending to do it, then we check my net speeds & stuff and he asks "what i see on my screen now?" and i answer "a picture of your mum naked". And he laughs his ass of, says thankyou and hangs up. Every Sunday 3 weeks in a row same dude same game lol. I'm actually hoping he calls again this Sunday.
"Sir, what browser are you using"
"Why Im using Netscape"
"You are using Chrome, okay sir please open the browser window
"I dont have Chrome, what is a Chrome?"
"You are using Google correct sir? Please open the Google"
"I only have the NetScape"
"Okay Sir, please hold on Im going to pass you on to my manager"
********* ABOUT 20 MINUTES LATER AFTER GIVING THEM THE RUN AROUND**************
"Sir…Sir…PLEASE LISTEN TO ME…on your keyboard, do you see the windows key"?
"No"
"Its between the Control and the ALT key"
"No, I don't have that key"
"Okay okay, look at your keyboard, do you see the [control] key?"
"Yes"
"And do you see the [ALT] key?"
"Yes"
"And what key is between it?"
"I have the [F] key"
"No no no, PLEASE LISTEN TO ME SIR, the key BETWEEN the [ALT] key and the [CONTROL] key"
"I'll tell you what I have, I have [F]… [U]… [C]… [K] [Y] [O] [U] [R] [M] [O] [T] [H] [E] …"
"Oh very funny you motherfucker huh? You think this is funny eh? Very funny you motherfucking bitch. What you waste time for eh? You think is funny eh you bastard guy go to hell and die with your mother! Motherfucker…bitch bastard motherfucker"
Love it, you know you've done your job when they lose their shit at you, i get it often too as I'm usually fairly nasty to the pricks after mucking them around a bit, but this guy who keeps calling is like the absolute worst scammer i've ever been called by, it's like it's his first day and he's super nervous and semi retarded. I'm just being nice til he finds his feet lol.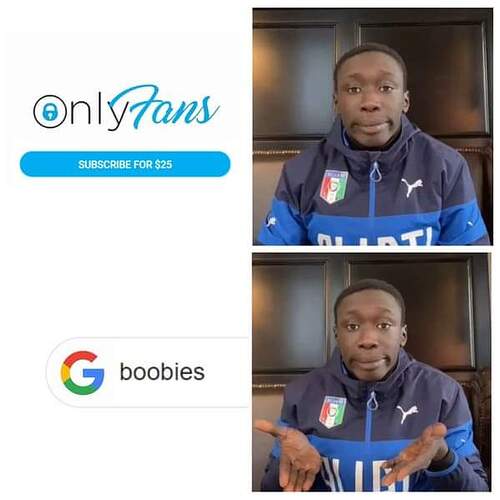 I don't get the only fans craze, there is free porn everywhere and i would think most wouldn't even care if it was old 70's porn.
I hear ya, i dont even get hookers, there are sl@ts in every town if need be, let alone paying for porn.
$25 to jerk off? Thats like $47 million an hour by my standards. Lol…
That last one. squints what could it mean? And how would you know
and… ok, time to go